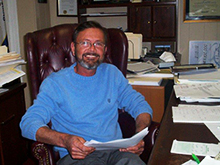 On behalf of the Estill County Fiscal Court, allow me to welcome you to the Official Estill County Website! We hope you find this website to be informational, enlightening and entertaining.
 Whether you are a citizen of Estill County looking for information on how to contact your various elected officials; a visitor wanting to learn more about our beautiful county; or a business owner considering locating to Eastern Kentucky; it is our sincere desire that you find useful and helpful knowledge on this site.
 We are proud of our county and its citizens. Estill County is blessed to be nestled "Where the Bluegrass Kisses the Mountains". We have some of the most pleasing sites that nature has to offer. We have 40 miles of the Kentucky River running through the heart of Estill County for those who enjoy fishing, boating and various watercraft activities.
 For the history buff, Estill County is home to numerous historic sites, such as the Fitchburg Furnace, which was recently featured in a story which aired on KET, and was named one of Dr. Thomas Clark's "Kentucky Treasures".
 Again, welcome to our site and we hope to see you soon.
 Wallace Taylor
Estill Co. Judge Executive